Tim Bird is a travel photographer and writer based in Helsinki, Finland. In this interview Tim answers questions about his life and work.
Disclosure: Some of the links below — marked with (£) — are affiliate links, meaning, at no additional cost to you, I will earn a commission if you click through and make a purchase.
What kind of travel related niche do you specialise in?
I'm based in Helsinki, Finland so I am a specialist in all things Finn, Nordic and Baltic.
I came here as an English teacher in 1982 and moved into writing, editing and photography, finding opportunities through the inflight magazine of Finnair, Blue Wings, what was then the Finnish Tourist Board and various Finnish business publications.
But I have also become an India addict, attracted by the surprises and visual culture shocks of that country.
In spring 2017 my exhibition of photos of Suomenlinna, the sea fortress in the entrance to Helsinki's South Harbour, opened, and my book on the same theme, Suomenlinna: Islands of Light, was published by Docendo in Finland. I'm very proud of that. My features and photos still appear regularly in Blue Wings.
And I have an eBook on travel photography, Motion Pictures – a travel photographer's companion (£), on Amazon Kindle and iTunes books, that I would really like people to discover (£):
Which piece of writing are you most proud of and why?
In the mid 1990s a small Finnish publisher, Taifuuni, published my book, A Baltic Odyssey – Exploring the Baltic Sea Region (£), about the Baltic Region. It's out of print now but I am still proud of the quality of writing. It dealt with the changes taking place in the Baltic States as well as giving a snapshot of the region at that time.
What do you enjoy most about travel writing and photography?
I enjoy arriving in new places and pretending nobody else has been there! I love the challenge of visually and verbally interpreting places and people in original ways. I also enjoy being my own boss. I don't enjoy airports and flying much any more, unless I am lucky enough to turn left as I board the plane, but I do love trains and boats (£):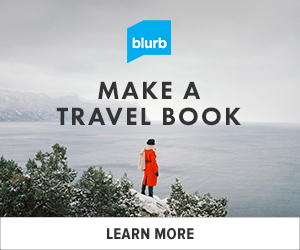 Do you have a favourite destination?
Finnish Lapland – as exotic as it gets in midwinter. And all of India, because it's 'proper' travel, taking me right out of my comfort zone.
What would be a typical working day for you, if there is such a thing?
I crawl out of bed to my office, which is about three meters from the bedroom, and turn on the computer. I have breakfast watching the news channels on satellite TV. I constantly seek distractions, such as the squirrels jumping around on the tree outside my window, Facebook or Six Music radio. I edit photos in Lightroom. Then I start planning the next trip.
Do you ever suffer from writer's block?
Not really. I always find that if I get the first sentence or two of an article down, the rest follows fairly easily (£):
How do you come up with ideas about places to photograph?
I look at travel blogs and flick through magazines (I still love the tactile relaxation of flicking through printed matter!). I try to find places that haven't been visited much, but that is an increasingly big challenge. But it's a good exercise to just get out with your camera and photograph things on your doorstep. So I have a growing selection of photos of the river at the end of my road at different times of the year, for example.
What tip or tips would you offer to anyone entering the industry?
Understand that you are unlikely to grow rich financially but that you have the opportunity to grow rich in terms of experience. And if it's really what you want to do, don't give up. Find your own voice, don't copy other people's. But your heart has to be in it, and you need to be resourceful, unprejudiced and confident (£):
Which writers and photographers inspire you?
Not many people think of Graham Greene (£) as a travel writer but he lucidly describes places at certain historic times (£):
I like Paul Theroux's (£) grumpy observations (£):
Tim Moore (£) makes me laugh (£):
I am familiarising myself with a number of Indian photographers such as Raghu Rai (£) and Raghubir Singh (£), but I also admire Sebastião Salgado (£) – although some of his work is staged, it's still brilliant (£):
I like photographers who manage to avoid clichés without being pretentious. I like anyone who manages to catch my attention and stops me in my tracks, that has his or her own 'voice'.
What do you aspire to achieve as a writer and photographer?
I want to be classed as one of the people I describe above – someone who has his own distinct voice in writing and in imagery. Not necessarily famous, although I would like to reach as many as people as possible, but respected. I like the idea of producing more books – I still see books as a kind of pinnacle of creative expression.
You can't substitute beautifully produced books of photos, for example, with iPad versions. Books don't make money but unlike magazines or newspapers, they have a sense of permanence, of making a statement. People might sell their books but they rarely throw them away. Otherwise, I just want to keep being creative while keeping my head above water financially!
It's a tough industry, what do you see as it's biggest challenges?
The sheer mass of photography available means that quality is sacrificed too often – the value of photography as a skill is under-rated. Media production wants your content but is increasingly often unprepared to pay for it.
Most of the digital battles have been lost but I will never under-value my work and have lost out on some nice jobs because I'm not prepared to give my copyright, for written work or imagery, for less than it's worth. For anyone starting out this is going to be a bigger challenge than it is for someone who is established.
Is there a destination you are particularly keen to visit?
There are various parts of India that are relatively unexplored, including Arunachal Pradesh in the north-east, and I'm hoping to visit there in spring 2018. I want to go to Kashmir. Finland doesn't have many mountains and I love mountains – so anywhere with mountains.
Where can people view your website?
www.timbirdphotography.com is for my photography. My blog, Six Images, might give a more rounded picture of me!
If you weren't a travel photographer and writer what would you like to be?
I really have no idea what else I could do. Of course I don't only do travel writing, but media production of various kinds – I can't imagine doing anything else.
What do you try to achieve by blogging?
I'm still a bit of a blog novice. Kind blogger friends have advised me to combine my sense of humour with my writing competence to showcase my photos, but not to use the blog as a portfolio. It's fun to do in itself, but again, I want it to reach as many readers as possible and just to see where it leads. It's an alluring new avenue to pursue.
And do get in touch if you want to know more or if you think I can help in any professional capacity! I'm flexible, I'm versatile, I'm available!
To see more of Tim's work from take a look at his archive of images from India.
If you enjoyed this edition of Inside Travel Writing, why not check out interviews with the likes of Lea Lane, Olivia Greenway and Solange Hando.